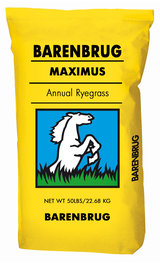 Now is the time to plant Ryegrass, pick up Maximus Ryegrass at Mumme's Inc.  Annual ryegrass establishes very rapidly, which gives high productivity in the planting season. This species is mainly used for overseeding warm season pastures in the fall. Annual ryegrass is capable of producing high forage yields in a very short period of time.
Maximus is a new tetraploid annual ryegrass from Barenbrug. Maximus was developed from a naturally occurring population in Highlands of Central Mexico. Maximus is medium maturity variety with good winter growth and high dry matter production. Maximus exhibits erect growth habit with large leaves. It is highly suited for mechanical harvesting. Maximus has good rust resistance and is suitable for production in the Gulf Coast States as well as California.
Maximus Rygrass H7600 $35.95 50# bag   ONE BAG WILL COVER 2 ½ ACRES.
Find out more here. F-14 Maximus (1)